Southampton to Santander on a motorbike
Sat, Aug 5, 2006
7-minute read
WE DID IT. A totally ridiculous challenge to ride from Southampton (Hampshire, UK) to Santander (Cantabria, Spain) in 26 hours. It was about 1800km, which on the face of it seemed easily doable.
The trip started badly - I'd invested lots of time and money into a bike cam - a video camera with a bullet camera mounted to my bike to try and take some stylish video of the whole affair. Before we even got going, it was broken with no sign of life. Needless to say we went anyway, and at 7am on Monday 24th July we left Southampton fully tooled up, heading for Folkestone to catch the Channel Tunnel for 1030am. Plenty of time. It was good to be on the bike again.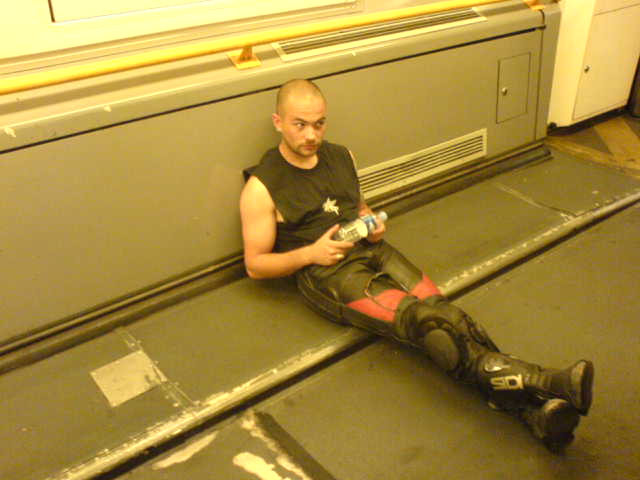 The train is about 40 minutes and save for some short delays, we were on the French roads by about 1130am. Now, my sense of direction is pretty good, but it all went wrong when we'd failed to check the maps to know where we were actually going, so 10 minutes down the road, we were lost on the side of the road, recovering from a minor shocker when I forgot what side of the road they drive on in France. Fortunately, it was only a temporary setback, and we were back on the road, heading for Boulogne. The route was fairly simple - head for Le Mans, head for Bordeaux, head for Spain. And all was going well until we found ourselves in Rouen, which was our ruin (ba-dam ba-dam) where the road signs we'd been following simply disappeared. A minor detour (we weren't lost, no) and we somehow found ourselves on an awesome back road, that took us back to our route.
We ploughed on, hour after hour, stopping quite frequently to fuel up and rest our suffering arses. By midnight, we were feeling the burn, but being only about halfway, we still had a long way to go. Bordeaux signs started to appear… 480km, 400km, 350km, 250km, 100km and all of a sudden it was 4am and we were nearing Biarritz. We thought we had it in the bag. With about 23 hours straight riding clocked up, we were past the French-Spanish border and sat at a petrol station wondering how we were still awake. Fortunately, the sun was back up, and the bizarre things that riding fast through the night does to your eyes were beginning to recede. Al at this point assured me that it was only about 100km to Santander, which via Castro Urdiales, where we were meeting his brother, and it'd all be over. Back on the road, and we see a sign: Santander 195km. That meant another fuel stop.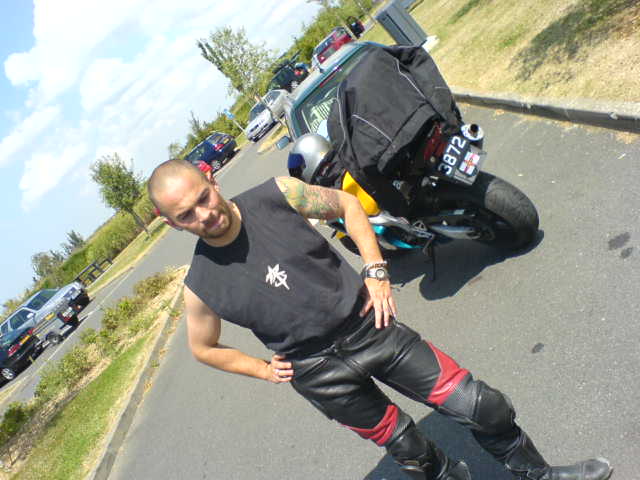 Castro Urdiales took ages to get to, and when we finally met up with Mike we were seriously doubting whether we'd be in Santander on time. "Don't worry lads, it's only 45 minutes, we'll do it no worries." That's easy for someone to say who hasn't been riding for nearly 25 hours.
The roads in France are totally different to those in Spain. Motorways in France are very long and very straight. The motorways in Spain snake their way through mountain range after mountain range, and with concentration levels at an all-time low, our speeds dropped as we held on to the bikes for dear life, just hoping to get there. By this point, I'd lost interest in the challenge. All I wanted was to get there, to drink a beer and sleep for a week.
We got to the outskirts of Santander, unaware of the time. Mikey planned to take us to the big beach as our finishing point, filtering our way weary bodies on weary motorbikes through heavy (weary) Spanish traffic. We got there. I awkwardly removed myself from the bike for the penultimate time, knowing we were there. But what about the time? 26 hours meant 10am (we didn't include the hour or so on the train). I hobbled to Al's bike. "What's the time? What's the time?"
"9.54am."
We'd done it with 6 minutes to spare. That felt great. We agreed that had we got there 3 hours early or even 3 hours late, we'd have said it was(n't) possible. But had we got there half an hour late we would have been gutted. Did we stop too long here? What would have happened if we hadn't got lost? Should we have taken that road?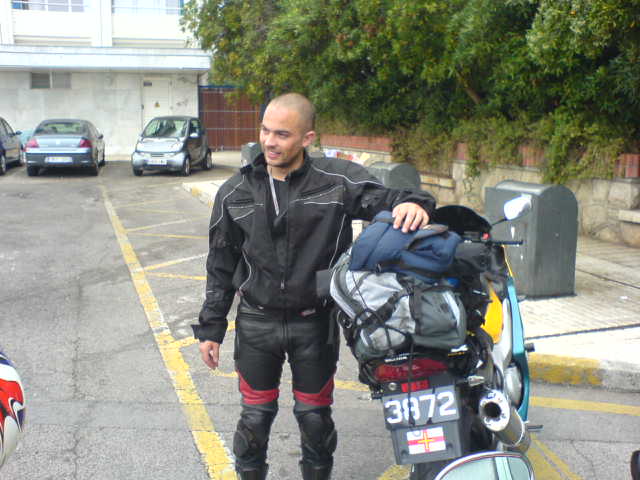 It didn't matter, we were there, and we'd done it. All that was left was to get back to Mikey's flat, and pass out.
The rest of the week was good - Al and I were totally shagged for the first day, but we still endeavoured out on the bikes to see some of Spain. But then it rained. In fact, the Thursday of our trip, saw Santander receive record levels of rainfall in 25 years. We were due to leave on the Friday, taking a leisurely 3/4 days to get back. Piece of piss. We delayed leaving on the Friday morning by about a couple of hours to let the rain ease off.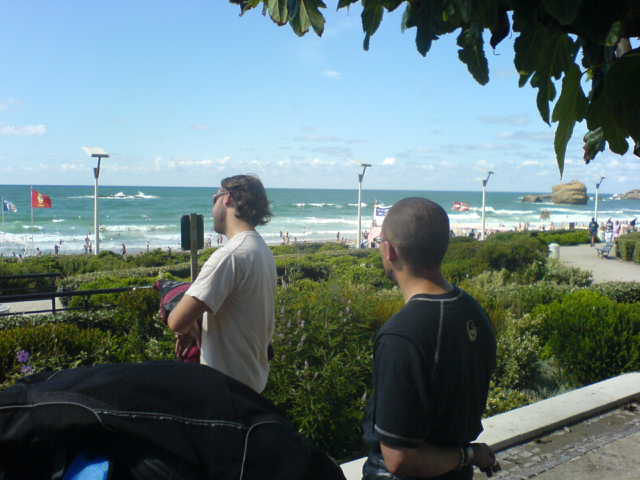 Eventually we tried to leave, we packed our bags, loaded up the bikes, wheeled them out of the garage and I go to start it. *BANG* and a big plume of smoke wafts out of somewhere around the engine block. I look at Mikey. I look at Al. Al looks at me. Al looks at Mikey. Our hearts sink.
One of the spark plugs had popped out of its chamber, and we assume the big bang was there being fuel but way too much air. Some quick repairs (take all the luggage off, fuel tank off, air box off) and we realise we don't have a spark plug tool. The HT lead doesn't make a great tool, but it was the best we had. We finally set off, destination Bordeaux. We stopped in Biarritz around 4pm for some lunch and admired some scantily clad ladies making full use of the beach showers. Back on the road, about 80km outside of Bordeaux, 120mph and pop, the spark plug is out again. Repair, on the road, and we're at our IBIS motel by midnight, having ridden completely the wrong way around the Bordeaux ring road, adding about 100km to our journey.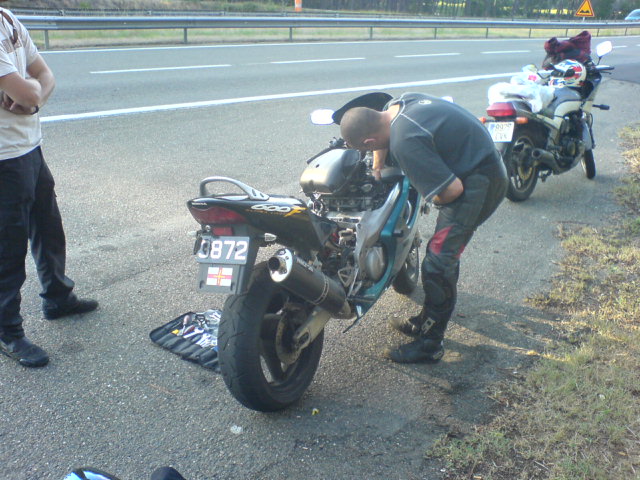 Mikey left us the next day to return to Spain, leaving Al and I to make our way to Rennes. Uneventful, but naturally cautious of whether the bike would break again, we took it easy. 50km outside of Rennes and pop. On the side of a thundering motorway taking the fuel tank off for the 3rd time. Al spots two helpful gents on "big blue motorcycles" stopping to help us. They were the gendarmes (police). That's us fucked we reckon. We're not wearing our high-vis jackets, we have a bike in pieces on the side of a busy motorway. In our best French we explained it was fixed, and we'd be gone in 10 minutes. Convinced, they left. We had escaped.
In Rennes at a positively early 8pm, we went out on the hunt for some dinner. Closed. Closed. 2 minute walk. The 2 minute walk was more like 32 minutes, but the steakhouse at the end of the walk was worth it, and the walk back was all the more manageable thanks to the overpriced beers we'd consumed (even if the bastards in McDonald's en route wouldn't serve us).
The final day of my trip was Rennes to St Malo to catch the ferry back to Guernsey. Al left me there and made his way to Calais, in preparation for his train the next morning to ride back to Southampton. I was home. He made it home. We both made sans accident. 3087km in a week feels like a real achievement. I just about the feeling back in my bum cheeks.