Updating Alesis DM5 drum machine firmware
Sun, Mar 14, 2010
2-minute read
I recently updated the firmware on my Alesis DM5. The update has been around for ages, but I didn't have the interface between the DM5 and my PC. I was in limbo about it all - I was looking at the Midiman Midisport 2×2 but I felt a bit aggrieved spending some thirty quid on something I was likely to use once. (I already have a M-Audio Pro 44 keyboard that hooks the kit in to my PC.) I finally bit the bullet and trusty old eBay turns up a nice and cheap USB Midi interface - I was dubious about something for £0.98 - whether it would really work.
Well, it did - no issues at all. You don't need to spend £30 just to get this working!
On OSX, the process is dead simple. With the interface plugged in to your Mac and the DM5, and the DM5 switched on:
Download Sysex Librarian
Download the DM5 firmware update
Unpack the firmware update
Launch SysEx librarian
If your interface is working OK, you'll see "USB cable" in the list of sources
Click Add, and add the downloaded update file
Ignore the warning message
Press play
It will start transferring the files to your DM5; the screen on the DM5 will change
Wait, and cross fingers
After that, the DM5 has been updated.
The pros of the update are more than the cons. The triggers are more responsive and there's seems to be far less crosstalk between the triggers, and they seem to work far better with Surge cymbals. The major cons are that you have to reset any custom changes you've made which is a bit of a drag - and although there are all new kits on there, they're all a bit weird. One of the defaults is a quite nice "double kick" - where the input for the hi-hat is converted to a kick sound, so you can double kick if you want.
Ultimately though, it seems like it's worth doing.
[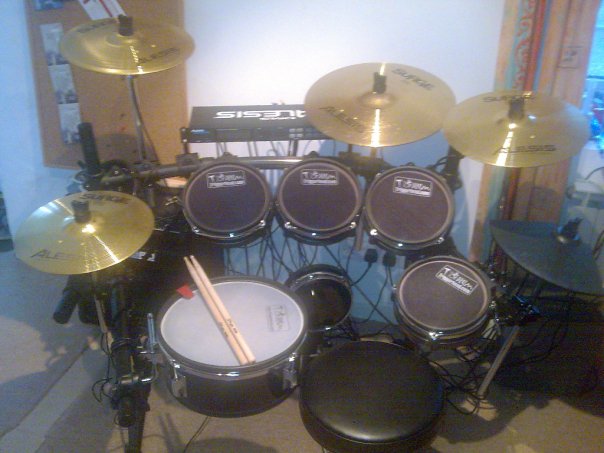 ](Drum Machine)