New York... still.
Tue, Oct 30, 2007
2-minute read
I'm still in New York, about a week longer than I had originally planned. My travel plans have been compounded now twice but I hasten to add that my travel plans are a miniscule consideration compared with what is going on here. Initially, the plan was to make my way to the west coast of the USA, such as Los Angeles or San Diego, and use that as a stepping point into Mexico. Unfortunately, just as I was preparing myself to depart for San Diego, the forest fires hit, displacing some 250,000 people and causing no end of grief for the local residents. Fortunately, the situation there seems to be calming, but it's unlikely to be the best time for me to pop down there for a quick visit.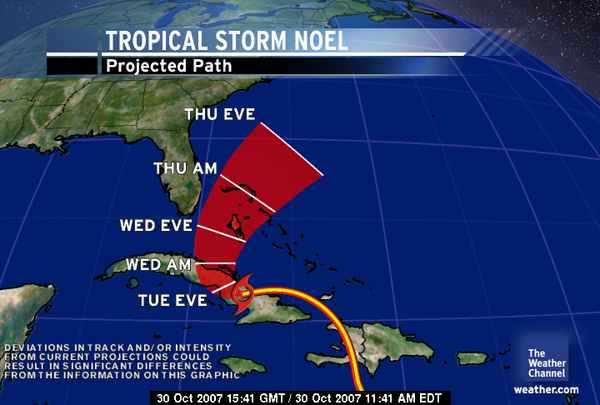 So, the change of plan was to abandon the west coast and instead make my way down the east coast, to either Ft. Lauderdale, Miami or Nassau and head to a small island in the Bahamas, for a week's downtime. From there I would go to Cuba, and then to Mexico and continue my trip as planned. As I was sat on hold to JetBlue.com arranging my flights, I was checking the weather forecast and was dismayed to see that some "scattered showers" were forecast for the area for the next week. It was then that I noticed a news headline "Deadly tropical storm Noel batters Cuba, heading for Bahamas" and which point I hung up the phone. Haiti and the Dominican Republic have so far felt the brunt of the storm with massive flooding and landslides, but in the next few days the storm is due to hit Cuba, the Bahamas and parts of southern Florida… all areas that I was due to go to, in the next few days. Although the storm should have passed by early next week, I'm still unsure whether it will be suitable to visit there "on holiday", when so many people are likely to be recovering from the effects of a big storm.
So, for the timebeing it's sit tight, see what happens and consider new plans. In the meantime, I've been having fun here in Stamford. I've done a wee bit of sightseeing, including a trip to Brooklyn, as well as a quick jaunt up to Harriman State Park - an amazing park on the border between New York and New Jersey.
I will update this as soon as I know what I'm doing.
-MT
Posts in this Series