New York
Mon, Oct 22, 2007
3-minute read
New York, New York. The Big Apple. Don't think I've actually seen any apples, but it's great being here anyway. Strictly speaking, I'm in Connecticut, staying with my brother in his new house in Stamford, but it seems that anyone within about 3 hours of said massive fruit describes themselves as living in New York.
I just need to get this out the way first: we were robbed. Rugby, that is. I don't care what any of my South African friends say - we were robbed. (OK, maybe not robbed*.) But nevertheless England were the better side and a far-cry from the side that got drubbed 36-0 by the Springboks earlier in the tournament. Our attacking game was strong and that try could have gone either way. From where I was standing - about 12 foot from a widescreen TV in an Irish pub in Stamford, with at least one pair of beer goggles on and about 50 other English, South African, American and Irish people in a similar state - it was a try. Lewis Moody dropped the trophy for us, though, with that outrageous trip tackle - it was totally unnecessary and 6-3 would have been a much easier position from which to recover. But alas, it was not to be, and fair play to the Springboks for 80 minutes of solid defence. But equal amounts of fair play to Brian Ashton and the whole squad - nobody was expecting England to do so well and I'm pleased they were able to flick some V's at the unbelievers. We can now look forward to regaining the cup in 4 years time.
Quick question: what the heck is the "biscuit" you get at KFC here?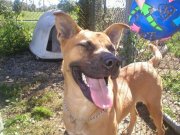 I'd love to say that I've been making the most of time here, but that would probably be a lie. I mean, I'm getting pretty good at Tony Hawk's Underground Wasteland, which is probably not time well spent. Since this is my third (maybe fourth?) visit to NY, I think the gloss has worn off a little, and so I've only been in to the City once. (It's a one hour $20 train ride. And even that ended with a hangover.)
The crazy winking gal over there is my brother's new dog - she's a rescue dog from the local shelter who arrives later this week. She's apparently a german shepherd collie mix, though we now suspect there may be a bit of bull terrier in her as well. She's currently named Rain - so that's clearly changing - and top of the list at the moment is Iggy.
I'm staying here for a few more days to help dogsit before moving on again. It'll be good to get "on the road" again.
-MT
P.S. If you've never played, check it: Beer Pong - much amusement. (Being reasonable darts players ensured that my brother and I showed those sorry yanks a thing or two!)
Let's face it, if we lost we were sure to have been robbed.
Posts in this Series