In hindsight, Nespresso, you did OK
Wed, Apr 12, 2023
8-minute read
Whichever side of the 'is pod coffee evil?' fence you sit on, it is nevertheless incredibly convenient. We've been Nespresso customers for 10+ years and it has (well, had) always been a pretty flawless experience. A decent online / app experience to order from; orders would arrive within a day or two, well packaged and as expected. And at around 30p a cup for decent enough coffee, it makes sense for us.
Warehouse move
Until in March 2023, when Nespresso botched a warehouse move. By all accounts all things just went to shit. Nespresso have never (as far as I have found) spoken about the motivation to move warehouse, but one assumes it was cost. Whether this included a change in an outsourcing model, distributor or even possibly shipping/courier, who knows.
But for whatever reason they managed to royally screw it up.
Unfortunately for them, I had literally just placed our largest ever order… £150+. Given that every other order we'd placed had always shipped moreorless immediately, I had stopped paying too much attention to the emails. The coffee would always just turn up. And so nearly 2 weeks later, it was something of a surprising realisation that it hadn't actually turned up. I fired off a quick email to customer service asking what was going on, but before they had a chance to respond, a different marketing-esque email arrived.
(I love the buzzy H1 of it: DOING IS EVERYTHING… this will sort of come back to haunt them, later.)
Dear Nespresso Member,


 


Thank you for your recent order with Nespresso.


 


I am getting in touch to let you know that regrettably there has been a significant delay to your order. When we emailed you to confirm a delivery timeframe (2-5 days), we were in the process of moving to a new warehouse and this transition has unfortunately led to an increase in processing time while we get used to our new location. I am very sorry for any inconvenience this may have caused you.


 


We are working hard to fulfil your order as soon as possible and this will be with you by Monday 13th March.


 


As a valued Nespresso customer, your experience is our absolute priority and this is not the level of service we want to provide you with. As a gesture of apology, we will be applying a credit of £10 to your Nespresso account and we will contact you via email once this is available. Please note, this can be used online, over the phone and in our Boutiques (valid for 12 months).


 


Thank you for your understanding.

Hmm, weird. But… OK. We had coffee in the cupboard so all was fine. This perhaps explains why Customer Service hadn't responded to my email. In fact, before they even did, this arrived:
Dear Nespresso Member,


 


Last week I got in touch to let you know that there has been a significant delay to your order.


 


Due to the ongoing issues at our warehouse, I will be refunding your order in full. This refund should be credited back to your original payment method within seven working days (depending on your banks refund process). You will still receive your order over the next few days, however you will not be charged for this and I would like to invite you to keep this as a goodwill gesture.


 


Once again I want to reiterate I how sorry I am for the inconvenience this may have caused you. This is not the experience we want you to have as a valued Nespresso customer and we are working hard to ensure this situation does not happen again.


 


Thank you for your understanding.

Woah! So I've got my £10, but they're now going to refund the full order… and still send me the full order? Jackpot!
Well, except…
Then a few days later, customer service did finally respond, but moreorless with the same as above. They were making a refund and the order would be sent out in due course. I got a dispatch notification - from DHL - not Fedex as it always had been in the past… but then 2 weeks later it arrived: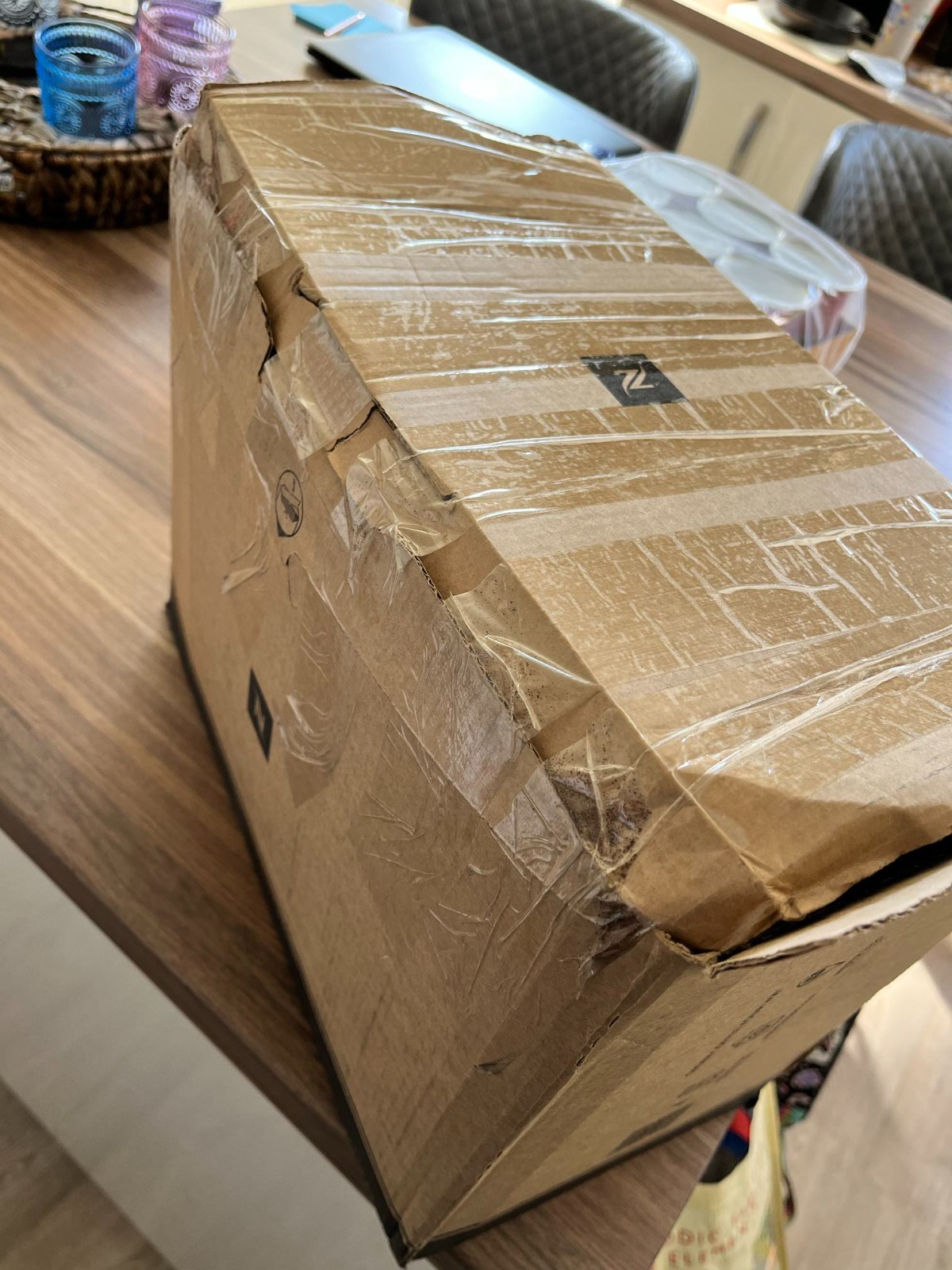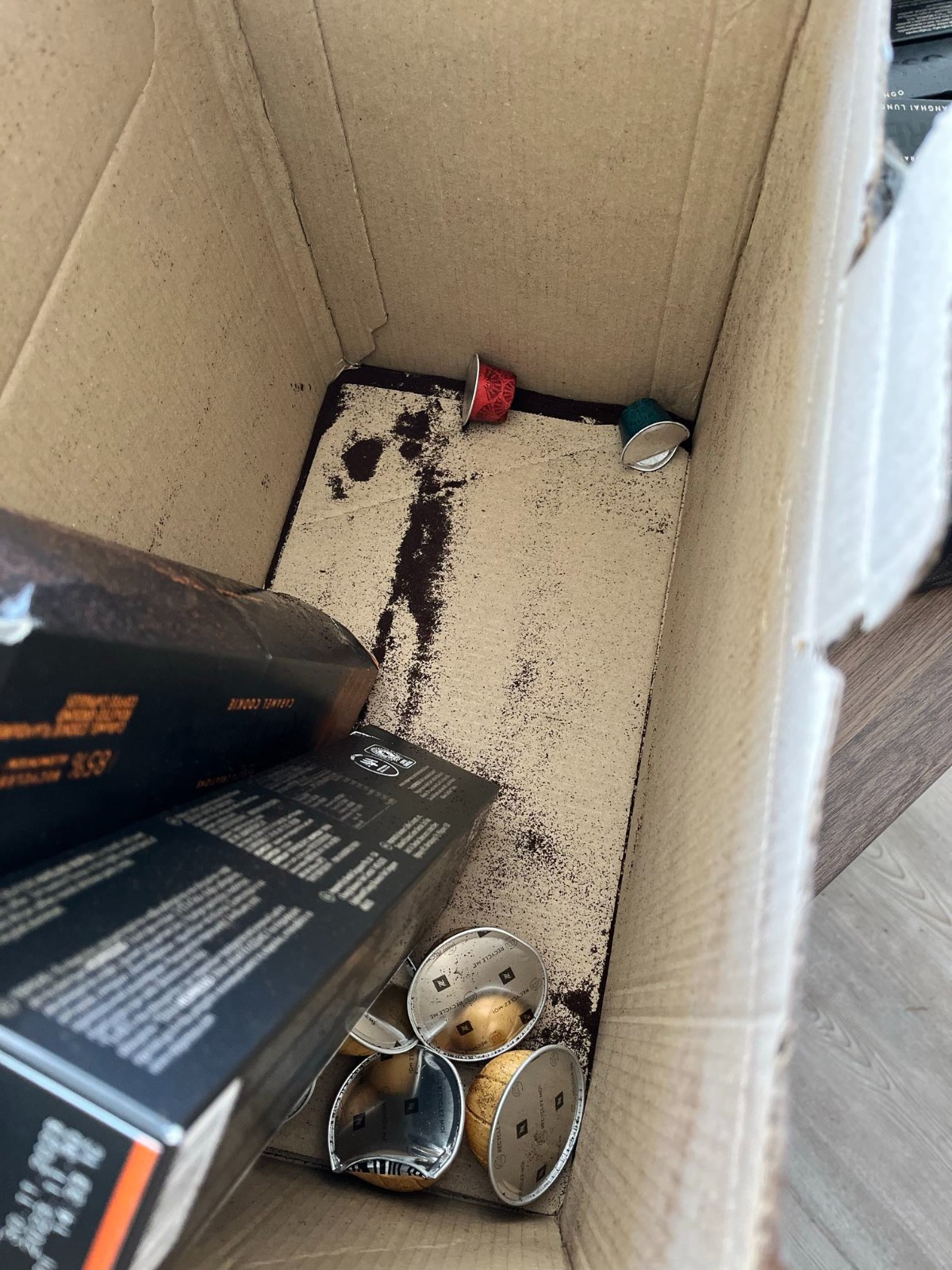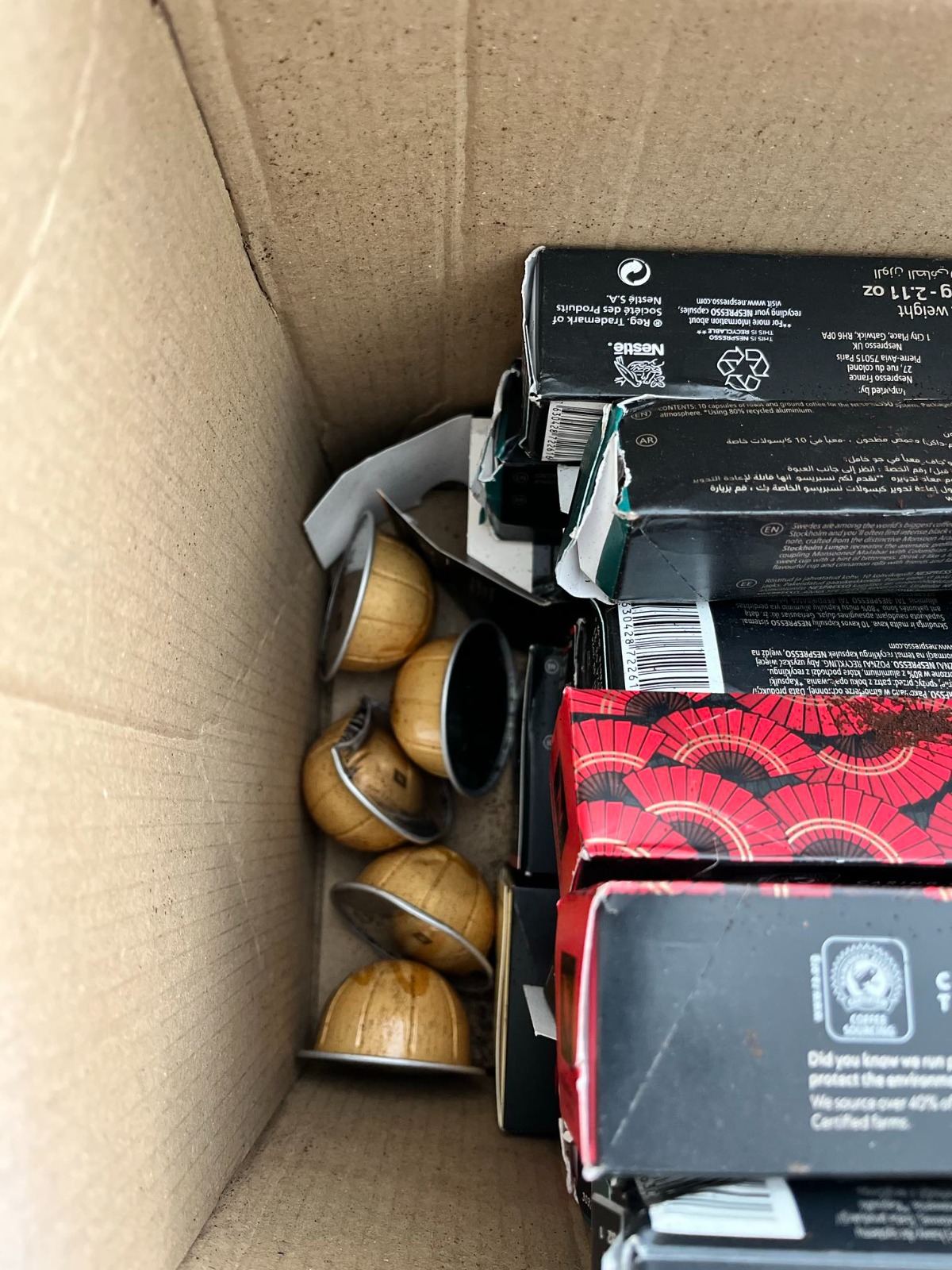 To say I was slightly astonished would be an exaggeration. Clearly we don't know at what point the thing got sellotaped back together, but it was missing the usual black outer sleeve and considering that at least half the pods in the delivery were for the completely wrong machine, it's reasonable to assume that the order never really left the warehouse in a proper state and revealed yet more to the scale of the problems they were facing.
(Also for the record the address label was incomplete, it moreorless had only my name on it which may explain why it took so long to arrive. The fact it arrived at all was somewhat miraculous. And for good measure, somewhere in amongst this, my order history for this specific order had been suspiciously deleted from my account. Weird.)
Naturally, I followed up…
I received the message about the new warehouse issues. This was followed up by an email on 14/03 from Jan Submeir that the original order would be refunded with a promise that we would still receive the original order, within a few days.





I have received the refund, however that original order has finally just arrived, almost 2 weeks later.





It is quite astonishing. It is hanging together with tape. Most of the boxes are damaged, quite a few have exploded and it is full of items we didn't order, including capsules for the completely wrong machine. I've never seen anything like it and this is certainly nowhere near your usual standards.





In the interest of your motto "doing is everything" I look forward to hearing from you urgently.

Their response was… underwhelming:
Thank you for your recent order. I am sorry to hear that the order arrived damaged and not with the capsules ordered.


 


I will log the feedback for our courier partner for future deliveries and equally our warehouse team. Kindly note this is not the condition we would expect of our deliveries to you, and we apologise that this is the case on this occasion. 


 


For the viable sleeves that are compatible with your machine, kindly keep these and dispose of the damaged ones.


 


Thank you for bringing this to our attention and I wish you a lovely evening. 


Kind regards, 

Hmmm, thanks… but that's not really good enough, is it? I was promised a full order, not half an order and a big mess to clean up. And then things start to turn, since their response is closed with
If you have any further queries, please contact us again via the reply link below

except there was no 'reply' link. Looking at previous emails, there were indeed reply links included. However, in this email, the reply link had been removed, and all options on the website to contact via email had been removed as well, making it very hard to contact them via email.
On their contact page, they offer Chat (which was offline), Freephone (nobody wants to sit on hold) or.. WhatsApp? Well that was new to me so figured I'd give it a go.
Robobollocks
Well that started badly as it turns out it's a virtual assistant. And those are, as we mostly know, complete tosh and completely pointless. However, after offering it enough abuse it eventually put me through to a real human and I got to recount the whole sorry story, again. Yay. But after all that, they eventually agreed to replace all the missing capsules. I checked whether all their problems were resolved? Yes, they told me. And they'd fixed whatever issues they were having with label-printing? Yes, they told me. And how long for the coffee? 2-5 days, after processing.
Except I then heard nothing else. No email confirmation, and after 9 days the order had still not processed. Back to WhatsApp and back to demanding the virtual assistant connect me to an agent. So it turns out the 2-5 days is the 'delivery timescale' and only applies after processing. Sneaky!
But why was it still taking 9 days to process orders? As they continued to read from the script, I realised that, yet again, I was not going to get any sense and gave up.
The coffee did eventually arrive a couple of weeks later. Again not in the black plastic sleeve and again with half the address missing. But it was at least intact and was what I had originally ordered, almost two months prior.
Update: am I going soft?
This was by all accounts yet another classic example of big business giving it the big one about how good they are and customer service and then fundamentally letting everyone down and so, by rights, in the spirit of this series of posts it should easily have been written up as above, and then moreorless ended. But as time passed, and the frustration of the day to day issues became more hazy, and in comparison with the issues experienced with Ikea I started to wonder how bad their response had really been.
Yep, it was a pretty serious fuckup but when it came down to it they did, eventually, resolve the issue and in the grand scheme of things I was more than compensated for it. You can imagine how chaotic times must have been with the warehouse literally not being able to process anything and a bunch of angry middle-class coffee wankers moaning about it is not going to make it any easier. They were initially proactive in trying to mitigate issues and then ultimately got things sorted.
Am I certain that they have resolved the remaining issues about the half-printed labels so that I won't get issues again in the future? No, I'm not… but we've got so much (free) coffee now, I can worry about that later.
Posts in this Series