Saas Valley 2010
Sun, Sep 26, 2010
3-minute read
Holidays this year were a week in the Saas Valley in the Swiss Alps in Switzerland. It was my Dad's idea, and when he suggested I join him and family friend Brian and mountain leader Mike for some climbing 4000m mountains, I thought why not? Bonding time with the old man, how bad could it be? Well, I made the mistake of checking out some video before going and was soon wondering what I'd let myself in for. I then found the blog of a group who had just got back from a trip doing moreorless the same thing as we were planning, I don't think it put me at ease in the slightest. Don't get me wrong, I'm probably above average fitness and fear levels, but still, photos of the Weismies traverse certainly had me wondering about my ability. After scavenging as much gear as possible, as well as a shiny pair of new Scarpa Cumbre boots and some Grivel 12 crampons, I thought I was all set. The one thing that had been reiterated to me over and over again - travel light! Whatever's in your bag, you have to carry, so if you don't need it, don't take it. So with literally two pairs of pants, two pairs of socks, some emergency food and zero luxuries (i.e., no iPad) we were set to leave Guernsey for Geneva.
Correction, the day before we were due to leave, Blue Islands called me to let me know that actually they'd made an "administrative error" and that we were now going to Zurich. Administrative error my arse - I eventually uncoverd that they had a group booking they wanted to fulfil (coinciding nicely with England vs Switzerland… in Switzerland) and obviously our flight was the one that got bumped. So our planned trip from Geneva to Saas Almagell went out the window. Fortunately though, Swiss public transport is by far the best I've ever used and it really made little odds to us. On arrival in Zurich, the station, in the airport, booked us a train, with four changes, to Saas Almagell. But our ticket showed us exactly where to change, at what time, at what platform, and when our connection would be there. Which was never more than a few minutes. In fact, at one point where we had to change at Saas Grund for a bus in to Saas Almagell, the bus was specifically there waiting for the connection. If ever there was a model of how an integrated travel network should run, the Swiss have built it, a not inconsiderable feat considering the array of geographical/topgraphical challenges they have faced in so doing.
So we arrived in Saas Almagell just a few hours after leaving Guernsey. The view was imposing, mountains all around, ready for a week of climbing.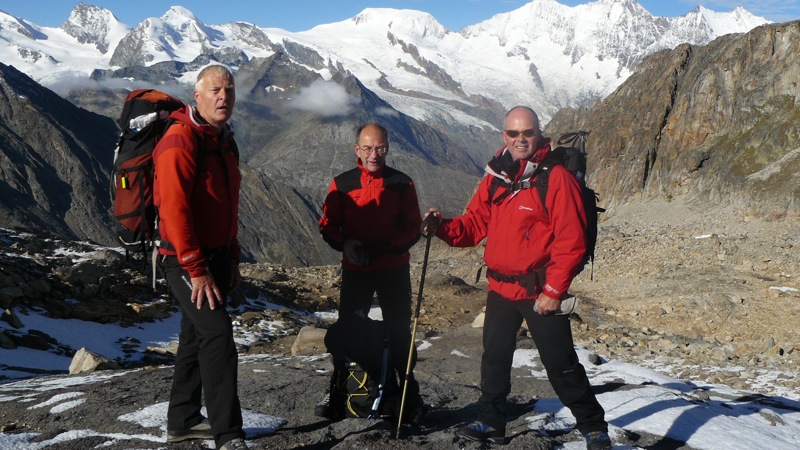 Posts in this Series